Your body is a wise counsellor.
It always knows exactly what you need to feel truly whole.
But it can be hard to understand what your body is saying when fear, shame, doubt, anxiety, stress, or busyness get in the way.
We've been socially conditioned to hold our feelings in, to put on a happy face even when we aren't happy, and to numb or disconnect so we can avoid pain or dealing with difficult situations.
It doesn't have to be that way.
It's absolutely possible to engage with these uncomfortable situations in a safe way and with someone guiding you.
We all possess the capacity for healing.
Our bodies contain boundless depths of wisdom that we can resource.
Growing your awareness of what's happening in your body helps build resilience and increase your capacity for healing, which inevitably leads to being able to experience life with more vitality.
Because feelings of joy, compassion, love, aliveness, and excitement aren't just for once in a while…
They are your birthright.
I'm Erin, and I believe our bodies are our biggest teachers.
After years of living with a chronic pain condition, anger issues, and a lack of self-worth… And trying everything I could to fix myself, I learned I wasn't broken (and neither are you). Learning how to listen to my body allowed me to heal.
I know you have a wise body and my superpower is holding space for you to hang out in your wisdom.
We do this so you can shift stuck patterns, release what's no longer serving you, and uncover a new way of being.
I combine a mixture of training and lived experience, namely drawing on the principles of various somatic therapies and Theatre of the Oppressed.
I live and work in Vancouver, BC, on unceded Coast Salish territory (xʷməθkʷəy̓əm (Musqueam), sḵwx̱wú7mesh (Squamish), sel̓íl̓witulh (Tsleil-Waututh), and Stó:lō (Stolo)) and am actively working to expand my awareness and hold safe space for marginalized folks.
My work is fuelled by intersectional feminism, and a commitment to compassion and justice.
I've worked with over one hundred people to help them tune in to what their bodies are telling them
Here's some background on me:
I have a degree in Biochemistry (because I love science)
I worked in a Nutrition Research lab (because more science!)
I worked with autistic children, and almost pursued a career in Applied Behaviour Analysis (because science AND kids!)
I became a Personal Trainer (because I figured everyone needs fitness)
I became a Holistic Nutritionist (because I figured everyone needs healthy food)
I became a Certified Somatic Synergist (because I KNOW everyone needs to learn how to listen to their body and feel their feelings)
I became an Instructor at the Institute of Holistic Nutrition in Advanced Nutrition Research and Biochemistry (because I love food and nutrition and spreading my passion for never-ending learning and I'm fascinated by the intersection of nutrition and trauma-informed care for the treatment of chronic illness)
I'm in training to become a Somatic Experiencing Practitioner (because I believe this is a powerful approach to settling the nervous system and renegotiating trauma)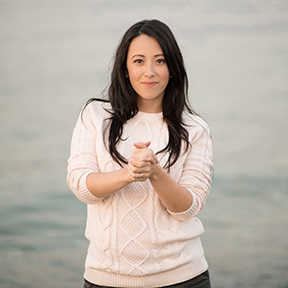 WANT TO KNOW MORE?
Find out how to work with me.